Post by Vanessa Ramos. Filed under Uncategorized.
A few bits here and there from my past two weeks i forgot to share but really wanted to.
Algunas cosas de aquí y allá de mis dos semanas pasadas que no recordé en compartir pero realmente quiero compartirles esto.
Remember the last harvest from Ulises' hydropinic greens? Here is one of the two bags that resulted of that last batch. It was delicious and we ate salad and sandwiches with them for a little over a week. We're going to start growing a few more greens and other vegetables, maybe strawberries for the little one.
¿Recuerdan la última cosecha de las plantitas hidropónicas de ulises? Esta bolsa es una de las dos que sacamos de la última tanda. Sabían muy buenas y creo que comimos ensaladas y sandwiches por más de una semana.
These two paintings are by Paola Torresponce. We went to her first solo show a couple of weeks ago and we liked her work. I would've love to see more [the show consisted of maybe 6 paintings], it really was so pretty and it had so many visual references to work of flemish painters like jan van eyck yet it had contradictory symbols like third eyes and other bits like the pastel diamonds on top of every painting and the titles. It kept me thinking for days. That's always good.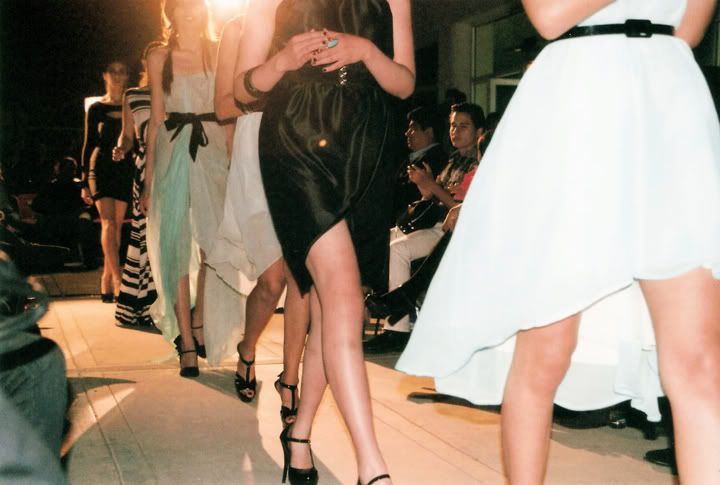 This past saturday, a friend and i, went to a runway show of thirteen fashion design student in a local University. It was a fun show and a few pieces really caught my eye. I can't wait until these students have their own clothing line and i can get me some pretty clothes [and support local talent, of course].
And this wonderful piece is something Ibrahim made a couple of days ago, it's something from school, it was in one of his books and he really got into making it. It's now hanging in a wall in our living room.