Post by Vanessa Ramos. Filed under Uncategorized.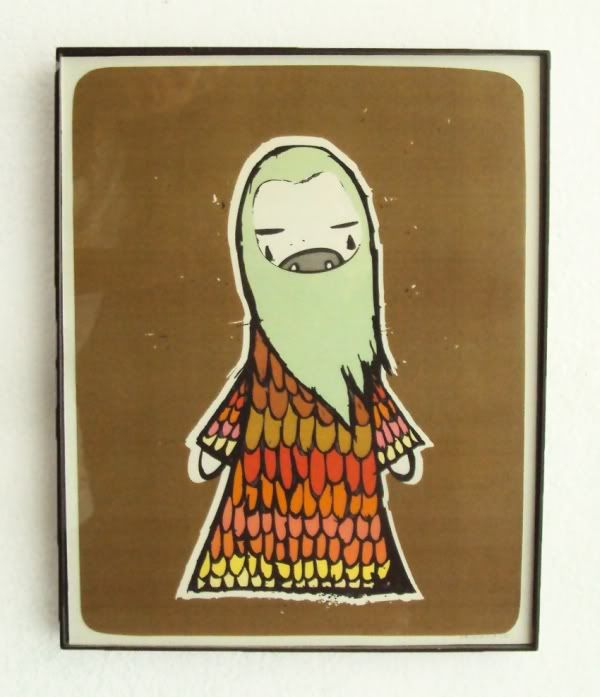 This is the first of many posts of i ♥ handmade. It's about sharing my love for pieces i actually own that are handmade, whether it's a piece of art, clothing, gift or something i bought, anything handmade, actually. I love it all. One every week, every wednesday.
I'm stating with a print i have by Mely Avila. She's a wonderful artist and photographer from Tijuana. I remember i bought this small print in an arts and crafts event that was held in the Radio Global office, i was selling my work there but i had to get this wonderful magician.
Right now it's hanging in my living room wall.
Ok, that's it. Do you have something you love love that's handmade? I'd love to see it.
Esta es la primer publicación de muchas muchas que voy a compartir llamada i ♥ handmade. La idea es compartir mi amor por piezas hechas a mano que tengo, ya sea arte, ropa, algún regalo, algo h comprado, lo que sea, que sea hecho a mano o diseñado por algun artista; piezas que realmente poseo.
Voy a empezar con una pequeña impresión en serigrafía de Mely Avila. Ella es una maravillosa y talentosa artista y fotógrafa de Tijuana. Recuerdo que esta pieza la compré en un evento de cosas hechas a mano que fue en la oficina de Radio Global hace algunos años, vi este maguito y me encantó.
Actualmente está colgada en mi pared de la sala.
¿Tienen algo hecho a mano que les encanta? Me encantaría verlo.